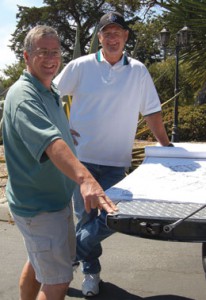 At NorCal Construction, you will be assured of complete follow-through, from day one until, well…you no longer need us. We specialize in fine construction, regardless of architectural style, or the size of the project. We firmly believe that mutual respect among the architect, client and our team of subcontractors is essential…..after all, this is your home.
General Building Contractors Jay Dorn and Greg Johnson have known each other practically all of their lives. They have been building together since 1975 and shortly there after made the commitment to become business partners and formed NorCal Construction in 1977. The two friends each married their high school sweethearts and the couples have felt fortunate to be able to work and raise their families in the beautiful Santa Cruz County area which has always been home to them.
Adam Dorn is a second generation builder, trained and mentored by Jay and Greg. He worked closely with them working in all aspects of the business and cabinet shop and in 1998 left Santa Cruz to pursue a career in Los Angeles. It was here that he honed his skills as a professional Project Manager working for public and private companies such as Starbucks and TJ Maxx Corporations and is a key asset to the future of NorCal Construction. While in Los Angeles, Adam met his wife Iris and the two moved back to Santa Cruz to start a family.
To Date, NorCal has successfully completed over 300 projects in Santa Cruz County and have become one of the most respected and sought after construction companies in the area.
Their shared values of honesty and integrity, their stability and their commitment to each project, has earned NorCal an excellent reputation with the finest architects around. Taking time to thoroughly organize each project during the pre-construction phase increases the speed in which projects are completed. This in turn reduces the clients costs and brings more enjoyment to everyone involved.
Norcal Construction always uses their 'A' team without compromise and brings a complete package to each project. Whether they are working on a new 5,000 square foot home or a kitchen remodel.
"The number one ingredient to a successful project is communication", says Jay Dorn. And you can be certain that NorCal Construction uses every tool available to facilitate that understanding.